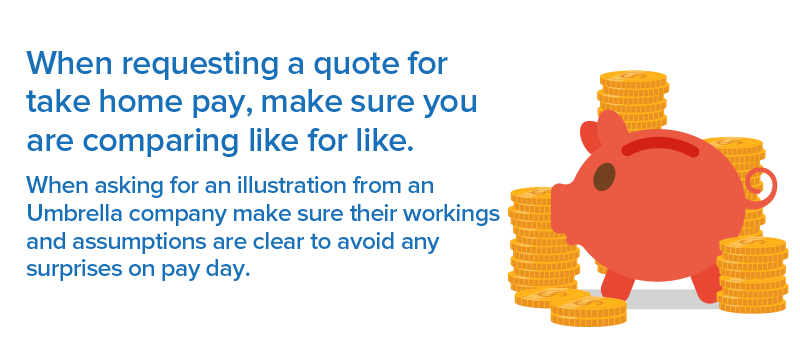 Bright Sky Umbrella is an Umbrella provider who have been committed to assisting contractors since 2015. We have worked alongside thousands of contractors and are available when needed.
We are fortunate as an organisation to receive new business enquiries. When a contractor reaches out it is our responsibility to provide the facts and figures to allow them to make an informed decision.
When contracting, it is important to remember the employed nature of the engagement and how your gross payment amount is calculated.
It is therefore common practice to request "a quote" of what your take home will be from a few different Umbrella providers. Most Umbrella providers should be able to provide you with an illustration of estimated net take home. It must be remembered that this will be an estimate and when comparing make sure that you are comparing like for like. The more information that you can provide the better the estimate Bright Sky can provide. Compliant Umbrella companies will take the same deductions.
When asking for an illustration from an Umbrella company make sure their workings and assumptions are clear to avoid any surprises on pay day.
To get the best information be clear.
Request that the illustration is based on 52 working weeks.

How is holiday pay allowance treated?

What is the margin retained by the Umbrella company?

Do you have a student loan to consider?

What are your thoughts towards pension?
If you receive an illustration of estimated take home that is wildly different from one provider to another -one is wrong. It will either be a misleading "quote" to falsely inflate the figure to sell you a false promise or down to incompetence. If you are talking to an Umbrella provider that promotes transparency and compliance you should be able to clearly see the deduction of company overheads, how holiday pay is being treated and how gross payment amount is calculated, and in turn how PAYE deductions are applied.
The true value an Umbrella provider has should not be judged on a "quote". Proper process will bring an Umbrella provider to a net take home figure that is similar, within pounds of each other, with another compliant Umbrella provider when the only variable is the margin retained by the provider.
To go with the "best quote" could be exposing yourself to a working relationship based on deception.
If you would like to get a "genuine quote" Bright Sky Umbrella can provide one and are happy to go over any other quotes to explain any workings that you may be suspicious of.
If you would like to discuss anything mentioned in this article – please get in touch with us on: 0151 433 7333