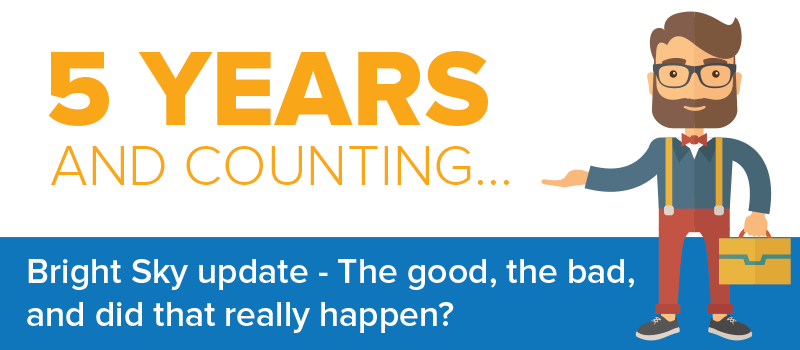 It has been two years since I sat down and reflected on how my company Bright Sky had become a living breathing entity. So I am already a year late in completing my annual appraisal of the good, the bad, and did that really happen?
I am now fully accepting that I am a thirty something, and that I have more than one grey hair. However with this passing of time I am at home in my position as the Director of Bright Sky Contracting. Whilst I cannot profess to possess an understanding of Brexit, and am amazed by how many people are now vegan; I am able to with full conviction say that entering into our 5th year of trading it will be our best. This means the best for our agency partners, the best for our contractors and the best for the people who work hard to offer a service that I am proud to be a part of.
Bright Sky Contracting has grown up through five years of change, as the temporary job market has evolved year on year. In the wake of the much needed Taylor report it has become clear that those working on temporary assignments and on a contract basis need the assistance and services of contracting professionals more than ever. As members of Professional Passport we have access to a support network that promotes the interests of the professional payment intermediaries sector.
Following our Professional Passport and Statutory audit being completed through the spring we head into the summer of 2019 having been given a clean bill of health. It is worth noting Professional Passport offer full indemnification on audited service providers. Clearly demonstrating that they operate to the highest standard and can only deal with compliant providers. In regard to our statutory audit which is mandatory for companies with a turnover of over £10.2 million we must make a special mention to our auditor Michael who over the course of his 4 weeks on site with us became an ornery member of the team.
In regard to our ever growing team, we have a squad who are as close and committed as the team that play in red two miles up the road from our office. With a strong close team, we have been able to celebrate successes together with team members completing NVQ training, AAT and ACCA modules, however there would appear to be a curse on those taking their driving theory tests! As a company it is important that all of our team "want to learn". We are a company with 5 years of history, we have learnt from every experience, every success, but more importantly from every issue or challenge. In our ever changing industry we must maintain the approach of "The student". We are always ready to learn and committed to being in a position to offer best value service.
In the run up to April 2020 there has never been a greater motivation for agencies to discuss how a compliant payroll intermediary can become a valued resource, and create a secure compliant supply chain. As legislation changes and the landscape of the whole temporary job sector evolves we will ensure that we are at the forefront of changes, how such changes will impact business' and how we can be of service.
I thank our contractors and agency partners for their business and hope over the course of the coming months to help more contractors and more agencies.